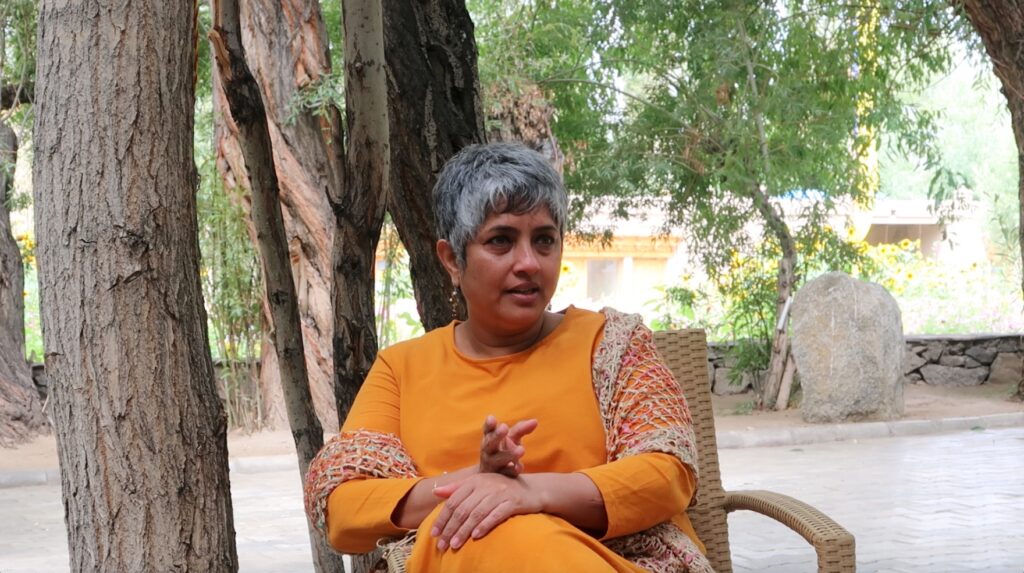 Anuradha Ramesh a.k.a Usha is the founder of Pink Mist Retreat, a center for wellbeing and healing in Hyderabad, India. She is also co-founder of Mischkat, a center for wellbeing and healing seminars in Dubai, United Arab Emirates.
Usha dedicated the last two decades of her life to the field of Consciousness science, both as a personal consultant and as a teacher, trainer, and coach. She is the creator of the Self-Mastery Project 1, a year-long system of inner work that has graduated 6 cohorts in India and UAE over the past years. She is also widely known for her Transgenerational Healing workshops, a unique modality that utilizes principles of family constellation to identify and dissolve energy entanglements in family systems, up to 7 generations back.
Usha has been offering workshops and persona sessions in several countries across the globe including Australia, United States of America, Philippines, United Kingdom, Saudi Arabia, United Arab Emirates, Bahrain, and Lebanon.
Approach:
Usha's deep connectedness to Consciousness is apparent in her easy-going manner, showing no compulsion to establish any credentials. Her simple and yet confident bearing in her role as a teacher, healer, counselor/guide and life-coach reveals a conspicuous absence of alienating mysticism. Her comfort and familiarity with the subject of Consciousness has helped her to clearly delineate certain underlying principles based on which she conducts her classes as well as her personal sessions:
All of creation is spiritual and everything in creation is spiritual. There is no other way of being. The Absolute truths of existence are extremely simple and that is the way they are to be taught, understood and practiced.
Joy, Love and Abundance combined with free-will are the birth-right of every being. Experiencing a life full of these qualities is the most natural way to be. Any experience that is different is unnatural and therefore inherently reversible
The solution to all problems of life exists in the realm of Consciousness. Therefore the only way to reclaim our birth-right is by re-connecting to our true self – our identity as a projection of that Consciousness on Earth.
The path to self-mastery and finding contentment and joy in life starts first with exploring the Self, finding and exploring those denied parts of the self that are unseen, potentially creating the challenges one faces in life.
Anuradha believes 'presence' and 'self-awareness' are the keys to a fulfilled life experience. Her approach is based on research and practice of principles drawn from several ancient texts and traditions as well as contemporary studies.
The practice of inner work, exploring the Self and working with inner content, is the enabler of self-mastery. Self-Mastery for Usha grants one a deep and meaningful inner life as well as great accomplishment and fullfillment in outward action.
Qualifications:
MD in Alternative Medicine from IBAM
Master's in Psychotherapy and Counseling – IBAM
Bachelor's Degree in Math, Physics, Chemistry
Bachelor's Degree in Education.
PCC Accredited Coach by International Coach Federation (ICF)
Facilitator of group processes and group dynamics
Certified Behavioral Analyst – Proception 2 – DISC
Transactional Analysis
Gestalt Therapist
NLP Practitioner
Past-life Regression Therapist
Rebirthing Breathwork Facilitatior/Trainer
Grand-Master in Reiki